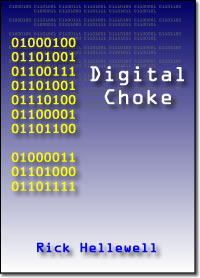 Here's "The Problem" -- the Internet died. And took a lot of people with it.
I am a computer geek. And I am out on my own after The Problem. I've just gotten back on the 'Net, and I think it's important that you know how The Problem happened.
Perhaps we can prevent it from happening again. If we learn from the mistakes we made.
---
"Digital Choke" is available on Kindle from Amazon for only 99 cents. Just click on the book to the right. Get the Kindle via the other link.
A sample of the Digital Choke story can be read here. Use the buttons to the right to contact the author or go to the author's blog.
---