..to continue the trip report … (I got a lot of catching up to do..)
We had a great visit at Pam's sister's house. Pam was able to visit with her mother several times, who was quite surprised to see her. Her mother is dealing with Alzheimer issues, but is in a nice care home that she enjoys with her little dog.
We went to a local BBQ place, took a drive through the area, and generally relaxed and had a good time. We stayed for about a week, getting Pam's mother's old Camry ready for a drive to Utah. It is still in good shape, minus a few dings, but mechnically sound. I got an oil change at the local Jiffy Lube, got the tire air rotated at America's Tires.
On the day of departure, there was a good series of storms just to the northwest, in the path of our travel. We went through a good and heavy thunderstorm (that later caused some tornado warnings), but the storm was heading east and we were heading west. So we eventually got into good clear weather, and wandered northwesterly.
Because it was on the way, and Pam is a big fan of "Fixer Upper", we stopped in Waco TX and went to the "Magnolia Compound". Big tourist attraction, due to the success of that show. Local churches around the compound were taking advantage of the tourists, charging $10 for parking. But we used the free parking provided by the compound.
We wandered through the the area (me pushing Pam in the wheelchair), and the store (lots of overpriced furnishing knick-knacky stuff, IMHO). Didn't get to the bakery – there was a big long line. Nice place for a visit – a big open play area for the kids, and a dozen food trucks. We only spent about an hour there, then back on the road.
Stayed overnight in Santa Rosa NM (right on the famous Route 66), and left the next morning for Utah. The roads were generally good, the weather was sunny with a bit of clouds, and I managed to miss the turkey buzzard that flew right in front of me. Mostly two and four-lane roads, but little traffic. Nice-looking farm country to high desert.
Travelled past Shiprock NM, around Albequerque, then into Utah, where the country changed into the pretty red-rock country. I really like that area of the country; too bad it is hot in the summer and too high an altitude for Pam.
Stopped at one of my favorite places – Hole In the Rock, just north of Moab. Saw that place one time before; my favorite is the full-size Jeep made out of rusty tools and license plates. Here's a picture.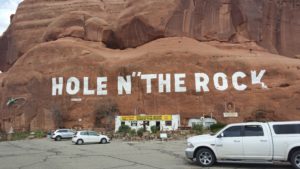 There's a house built into the cliff. This is an old stage stop from the 1850's. Quirky little place, but fun for the family.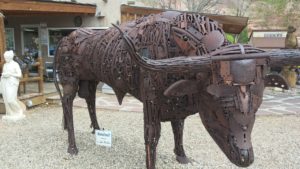 The only Texas Longhorn we saw on the trip .. and it was in Utah!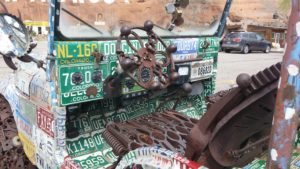 Full Size Jeep made out of rusty metal and License Plates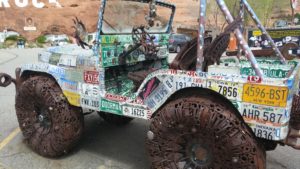 Full Size Jeep made out of rusty metal and License Plates
It's a funky place, but it amuses me.
Then back on the road, through the pretty red-rock and canyonlands of Southeastern Utah, up highway 89 into SLC and eventually to the hotel in Layton. (We didn't take the scary Highway 12 route of the Hogback, but that's a great road to travel on if you are in the area. It's the back way out of Bryce Canyon into Escalante and Beaver. Great scenery.)
We spent a day in Utah, visiting with daughter Christine and her family, and dropping off the Camry for their use, getting back into our comfortable Highlander.
We were able to take Liam (grandson) with us back to Washington. He's heavily into sports (as is the rest of his family), but it was Spring Break, and he had the week off, sports-wise and school-wise. He wasn't able to visit last summer (his three brothers and sister did), so he was really looking forward to the trip.
An uneventful trip from Utah to home, taking the usual route through Idaho, eastern Oregon, and down the Columbia River, turning right at Portland/Vancouver to head home. Got home about 9pm, and that was the big trip. A great adventure.